Podiatrist Shing Cheung Yuen, DPM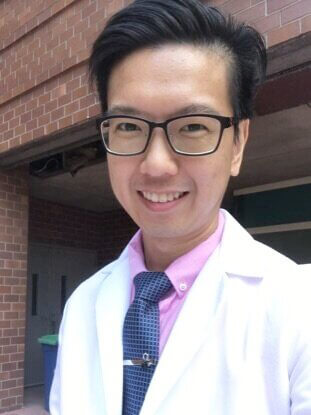 Shing Cheung Yuen, DPM
袁醫生
Dr. Shing Cheung Yuen moved to Brooklyn, New York, emigrating from Hong Kong with his family at age five. As a young man, he enjoyed being active and playing soccer. Dr. Yuen graduated from the computer science program at John Dewey High School. He continued to pursue the sciences at Stevens Institute Of Technology, where he graduated Cum Laude with a degree in biomedical engineering. Furthermore, he placed first in the Northeast bioengineering conference with his senior design project on the knee goniometer.
Dr. Yuen wanted to use his scientific and medical knowledge to help those in need and make an impact in their lives, so he chose to pursue his doctorate at New York College of Podiatric Medicine. While in medical school, Dr. Yuen also co-founded and pioneered a healthcare organization, known as ACE society. This organization works to offer free foot, oral, and vision screening for communities in need, in partnership with chapters from NYU dental school, LIU pharmacy school, and SUNY optometry.
After graduating, Dr. Yuen went on to complete a three-year residency caring for US Military veterans at the New York Harbor Healthcare Hospitals. During this time, Dr. Yuen received hands-on education and experience in all types of podiatric medicine and surgery. He also learned how to communicate with and relate to patients while giving them the best care. Dr. Yuen's caring and thoughtful bedside manner set him apart from his colleagues.
He has research publications in both engineering journals and the Journal of Podiatric Medical Association. He is a proud member of the American Podiatric Medical Association and the American College of Foot and Ankle Surgeons. Furthermore, he is a board-qualified podiatric surgeon. Dr. Yuen uses his vast knowledge base and experience to provide the highest quality of podiatric care to his patients.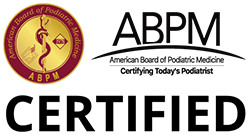 Podiatrist Xu Qian, DPM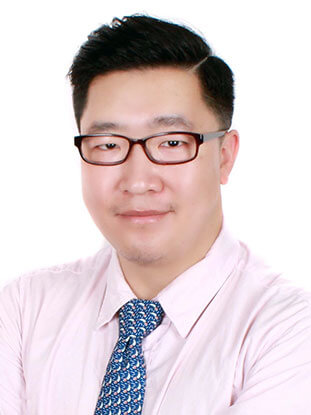 Xu Qian, DPM
Dr. Xu Qian was born and grew up in China. He moved to the United States at age 15 with his mother who was pursuing a postdoctoral fellowship at Harvard Medical School affiliated research laboratory in Boston, Massachusetts. Dr. Xu went to Brookline High School and Brandeis University in Waltham, Massachusetts. In 2011 he graduated with a Bachelor of Art degree in Biology. He then worked in a private research laboratory for two years seeking a career for life. He eventually decided to pursue a medical path like his mother, who was a pediatric surgeon in China and her life saving stories influenced his early life.
Dr. Xu went to New York College of Podiatric Medicine in 2013 and graduated with a Doctor of Podiatric Medicine degree in 2017. He completed four years of Podiatric Medicine and Surgery and Reconstruction of the Rearfoot and Ankle surgical training in St. Barnabas Hospital Podiatry Residency Program, Bronx, New York. Dr. Xu was the chief resident of the podiatry department in his 3rd and 4th year residency training. He completed more than 400 forefoot and rearfoot surgical cases, among which 300 were as a first assistant. While at St. Barnabas Hospital, a regional level one trauma center, Dr. Xu has encountered numerous foot and ankle trauma cases and has advanced his rearfoot reconstructive surgical skills under the guidance of experienced orthopedic surgeons. He also advanced his forefoot surgical skills by practicing with podiatric surgeons in multiple hospitals and surgical centers in New York and Connecticut. During the residency, Dr. Xu has treated more than 500 patients with wounds and ulcers on the foot and leg in the wound care clinic and more than 2000 patients in the podiatry clinic.
Dr. Xu is honored and privileged to join the team with Dr. Shing Chueng Yuen, who is an amiable friend of his, a skilled surgeon and most importantly, a doctor full of empathy. Dr. Yuen is a Cantanese speaker and Dr. Xu is a Mandarin speaker, together, they are ready and looking forward to helping and serving the Chinese community of New York with their caring hearts and knowledge in foot and ankle.
徐医生出生于中国湖南长沙,于15岁随母亲来美国在马塞诸塞州波士顿哈佛医学院附属研究院 攻读博士后。 徐医生曾就读于波士顿Brookline 高中和 Brandeis 布兰迪斯大学,主修生物生化方 向,于2011年本科毕业荣获生物学学士学位。 徐医生随后在波士顿一家私人研究所工作两年找 寻一生所向往之职责。 最终,他励志像他母亲一样成为一名治病救人的医生。 不同的是,他母亲 是一名小儿外科医生,而他出于童年时的一些受伤经历,决定成为一名脚踝外科医生。
徐医生于2013年被 New York College of Podiatric Medicine 纽约脚科医学院录取,在四年寒窗苦 读之后于2017 年毕业并荣获脚科专科文凭。 随后他进入了位于纽约布朗士的St. Barnabas Hospital 医院,一所区域一级创伤中心的脚外科实习医生项目当了四年住院医,于2022年毕业并 获得PMSR/RRA 前足,后足和踝关节修复手术资格。 在当住院医期间的第三年和第四年,他是 脚科部门实习医生组长,参加了超过400场脚踝部位的外科手术,其中300场是作为第一手术助理 参与。 徐医生跟随许多经验丰富的骨科医生精进了他的后足和踝关节重建和修复手术技巧,同时 也参与了许多纽约州和康州的脚外科医生的手术并在脚科手术技巧方面逐步精进。 在这所区域 一级创伤中心的四年里,徐医生参与了非常多的脚踝部的感染处理,糖尿病足,创伤,清创,骨折 复位等各类型急诊治疗。 在外伤护理中心里他治疗了超过500名有足部外伤溃疡的病人,在脚科 门诊里他接诊了超过2000名病患。
徐医生感到非常荣幸能加入到袁诚璋医生的团队里。 袁医生是一个非常友善的朋友,一个出色 的脚外科医生,最重要的是,他是一位富有同情心的医生。 袁医生擅长广东话沟通,徐医生擅长 国语普通话沟通,携手一起,他们已经准备了好用他们的爱心和对脚踝部的知识理解来一起帮助 并服务在纽约的华人社区!
We accept most insurance plans and welcome new patients!
Call today and get back on your feet! Flushing, Elmhurst & Brooklyn, NY at (646) 520-7027.