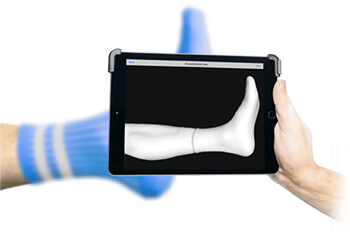 Foot Orthotics & Corrective shoe inserts in Flushing, Elmhurst and Brooklyn, NY
Ongoing foot pain can often be debilitating for those suffering from the discomfort. In order to help alleviate the pain, a podiatrist may suggest you wear custom orthotics. Custom orthotics fit perfectly for your foot and are made specifically for your type of foot condition. For some, orthotics make performing day to day activities easier and less painful.
Shoe Orthotics for Foot Problems
Custom orthotics are specially-made devices designed to support and comfort your feet. They are crafted uniquely for you, by matching the contours of your feet to optimize how you move. Orthotics are only manufactured after a podiatrist has conducted a complete evaluation of your feet, so the orthotic can accommodate your unique foot structure and pathology.
Podiatrists use orthotics to treat foot problems such as plantar fasciitis, bursitis, tendinitis, diabetic foot ulcers, and foot, ankle, and heel pain. Clinical research studies have shown that podiatrist-prescribed foot orthotics decrease foot pain and improve function.
Orthotics are especially useful for those with foot pain and those who may have fallen arches. Orthotics may help properly reposition the structures of the foot, easing the pressure and rebalancing the distribution of weight on the feet. Those with arthritic feet or those experiencing pain due to plantar fasciitis may find relief with orthotics, as they also tend to find issues with arch complications. Orthotics are a great way to give your feet extra support, which can come in handy for those who tend to stand or work on their feet for the majority of the day. The next type of patient who made aid in the use of orthotics are those with diabetes. It's more likely for those with diabetes to develop corns and calluses. When this occurs, the friction of the corn or callus against your footwear can be extremely uncomfortable and painful. Orthotics, in this instance, can be useful in reducing the pressure placed upon the affected areas.
Traditionally, plaster casting is used to make an impression of your foot for the orthotic molds. However, newer technology like 3D Digital Scanners provide impression accuracy to the micrometer without the mess of plaster cast and without long turnaround time. Prescription orthotics are made of top-notch materials that are customized to the patient's needs and lifestyle so to optimize the longevity of the orthotics.
Orthotics typically cost more than shoe inserts purchased in a retail store, but the additional cost is usually well worth it. Unlike shoe inserts, orthotics are molded to fit each individual foot, so you can be sure that your orthotics fit and do what they're supposed to do. Many insurance plans can help pay for prescription orthotics.
Orthotics alleviate pain and make the foot more comfortable by slightly altering the angle at which the foot strikes the ground surface, therefore controlling the movement of the foot and ankle. Orthotics come in different variants and can be made of various materials.
If you'd like more information about the type of orthotics that is best for your condition, we suggest you speak with a podiatrist for a professional recommendation.
Call our office to make an appointment for an orthotic evaluation.